We'd all like to have our own full-sized craps table at home. But for most of us that is just not practical - let alone affordable. What most of us need is something that's portable and easy to store. For years we offered my buddy Shootitall's practice rigs. These rigs were made of the superior materials and instead of assembling with an assortment of drop hinges, bolts and wingnuts - snapped together and were held in place by powerful rare earth magnets.
A couple of years back Shootitall decided to give up the rig building business. Enter my pal Aloha Jon. Jon took over Shootitall's rig building business, refining the product while sticking to Shootitall's original design. The great thing about these rigs is that you ca break them down and pack them in a duffle bag and take them with you to the casino. Get a warm up session in before heading to the tables and you'll be amazed at how much your game will improve. Practicing before you head to the tables can make the difference between a winning session and a losing session.
Aloha Jon's practice rigs are the ONLY practice rigs that have Heavy's seal of approval. The bounce is as true as you'll find without buying a full sized table.
Total of (5) pieces
Unit weight 9 Lbs.
Width 16"- Length 23" -Height 11"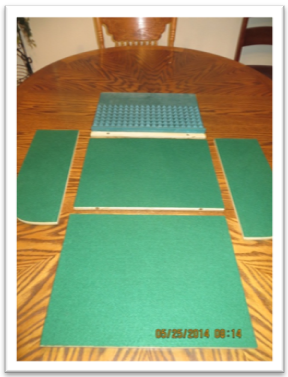 Jon does not book orders direct. Each rig is build to order. Orders are processed through Axis Power Craps and Jon handles fulfillment from his shop in San Diego.
Material costs for these rigs recently went up. Your cost is $229 plus $20 shipping and handling. Yes, there are cheaper rigs on the market, but you get what you pay for - the cheapest grade plywood at the lumber store, wing nuts and retaining bolts that unwind and get lost, dime store felt or worse. If you're going to spend money on a practice rig get something worth practicing on. Get the Aloha Jon - Shootitall practice rig from Axis Power Craps. Order today via PayPal at this link:
https://www.paypal.com/cgi-bin/webscr?c ... YUYPXX7L9L
Reminder: These rigs are built to order - we do not typically stock them in inventory. Allow four to six weeks for delivery.